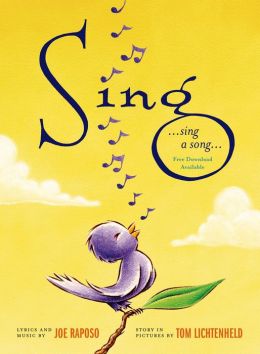 Early Literacy Aside--Explain: Some of us can sing well, others not so well. Some of us like to sing whether we can or not and others would rather not sing. Did you know that singing is one way to help children learn the sounds in language which will then help them hear sounds as they learn to sound out words? Songs have a distinct note for each syllable so children hear the rhythm of language and hear words broken down into parts.
Early Literacy Aside--Example: Our next book is a songbook. It uses the words to the song as the book itself. It's called Sing by Joe Raposo. I often feel like the third bird! I hope you do too. Let's see what happens when one of the three birds can't sing. We can all sing the words together and notice how songs help with hearing sounds in words.
Read/sing the book first describing what is happening in the wordless pictures.