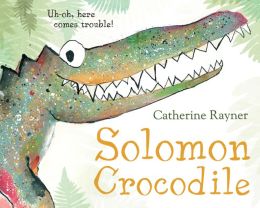 Introduction: Our next book is about a crocodile who is trying to have some fun and in the process is stirring up a big ruckus!Early Literacy Aside--Example: Adults, listen to the many interesting words that children may not hear in everyday conversation. You'll see that I will actually talk about a couple of the words. This is a good way to build your children's vocabulary in a gentle way.
Read the book. [You can see there are many synonyms such as a pest, a nuisance, a pain and several interesting verbs such as stalk, splat, croak, squawk, spies, charges. Choose one or two to talk about.]
Early Literacy Aside--Empower: Children learn through repetition. So, reading a story such as Solomon Crocodile over several days or weeks will help them understand the story better. They may become so familiar with it that they join in with the words in the book. And you may find that they use some of those interesting words in other situations. You can too. The best way to learn new words is not from lists of words with definitions, but from using the words in different situations when appropriate.