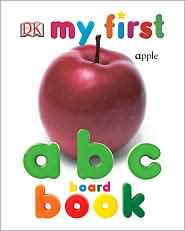 Early Literacy Aside--Example: Sharing alphabet books is one way to introduce children to letters. This book My First ABC Board Book has bright, clear photographs of things that interest young children.
Share a page or two: For example, on the B page, we see a baby, bananas, a ball, and bread. We see both the upper and lower case letter so children see that the same letter can look different. You can give the book to your child and let him choose a page to talk about. Talk about the pictures and point out the letter.
Early Literacy Aside--Empower: Naming the letters and pointing to them is a first step to developing your child's letter knowledge, one of the six early literacy skills. You can do this with books and also with signs whenever you are out and about. Remember to keep it enjoyable and stop when your child has had enough. No need to quiz your child on the letters, just expose them to the letters.