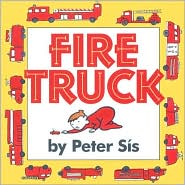 Introduction: This book Fire Truck, written and illustrated by Peter Sis, has lots of interesting words in it.
Early Literacy Aside--Example: Listen to the many different words your child is hearing, words we might be using in everyday conversation. Because books have three times as many rare words as we use in conversation, it is important for children to hear the language of books. As I'm reading this book, just hold up a finger when you hear a word you would not be using everyday when talking with your child. Then we'll see how many you heard at the end of the book.
Read the book. Ask how many words they heard that they would not use in conversation with their children.
Early Literacy Aside--Empower: As you read books at home with your children, you may notice some words they are not familiar with. You don't have to explain every unfamiliar word, but you might choose one to point out and explain. Don't replace unfamiliar words, or they won't hear them. This is how you help their vocabularies grow!