Say the rhyme together. Act out the lyrics.Five Little Kittens Five little kittens sleeping on a chair One rolled off, leaving four there. Four little kittens, one climbed a tree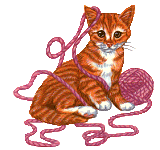 To look in a birds nest; then there were three. Three little kittens wondered what to do. One saw a mouse, and then there were two. Two little kittens playing near a wall. One little kitten chased a red ball. One little kitten with fur soft as silk, Left all alone to drink a dish of milk.
Early Literacy Aside--Example: We are acting out the lyrics. After we do it a few times, I will see if the children can help me recall the actions and say the rhyme themselves. This is a form of narrative skills, saying the rhyme in order and using the actions to help them recall it, a first step in later understanding what they read.
Submitted by Anna Hancock, Cincinnati (OH) Public Library