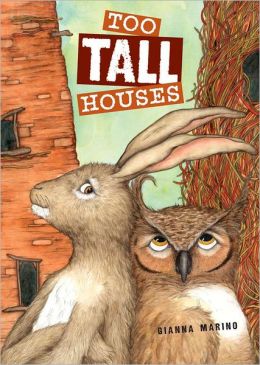 Early Literacy Aside--Explain: In today's storytime I will be pointing out ways you can support your children's background knowledge through talking about what is happening in a book and writing about it too. By asking children about the story, we help them thinking bout what is happening and help them better understand the story.
Introduction: Our next book is Too Tall Houses by Gianna Marino. There are two houses in this story, one for Rabbit and one for Owl and they get the two houses get too tall; they get very tall. In this story Rabbit and Owl have a problem. Let's see what that problem is and maybe you can give some suggestions on how to solve it.
Read the book to the page where Owl's house is blocking the sun that Rabbit needs for his garden, but Owl wants to see the forest. Ask an open-ended question such as "What do you think might happen?" "What do you think Rabbit and Owl could do solve their problem? Rabbit needs sun for his garden but his garden has grown tall and Owl wants to see the forest."
Early Literacy Aside--Example: Some stories, like this one, really lend themselves to helping your children think about how to solve problems. Asking them to stop and think about possible solutions develops their thinking skills which also helps with understanding. Remember there is no one right answer. It is good for them to think about different possibilities.
Early Literacy Aside--Empower: In our storytime today we read the story Too Tall Houses. There are several ways Rabbit and Owl might have solved their problem. Have your children draw their own ending to the story and write down what they say. This activity combines writing with problem solving to make for better comprehension now and as they learn to read themselves.